so, all essential info is basically out ... it will have three petrol engines:
- entry 130hp PureTech 3 cyl. turbo with 6 speed manual gearbox
- middle 180hp 4 cyl. THP turbo with EAT8 automatic
- top 225 4cyl. THP turbo with EAT8 automatic
and two diesels:
- 130hp BlueHDI with 6 speed manual or EAT8
- 180hp BlueHDI with EAT8
later it will get 300hp 4x4 hybrid with 200hp petrol THP, EAT8, 13kWh battery and 100hp electric motor on rear axis... they claim that cabin and boot space won't be affected! its boot space is 650liters...
entry level versions will get classic instrument cluster with dials and 8" central LCD, while its price range is expected to range between 30k and 60k eur... which is kind of ok. cause, it fits right between Q3 (-15cm in length; 30 to 40+k eur in my country) and Q5 (+10cm in length; 40+ to 60k eur in my country).
it will offer four different interior trims, named Bastille, Rivoli, Opera and Performance Line with five different leather combinations (red, black, brown, suede, alcantara) and one with wood... thankfully, since some of hem are a bit "tacky" by themselves, they won't be completely "customizable", so you won't be able to make a complete mess out of your cabin
!
you can find pictures of them, as well as all the PR "sweet-talk" about the technology that can be "built in", on the netcarshow's link:
https://www.netcarshow.com/citroen/2...7_crossback/#2
I'd just like to post a link on French presentation video, where exterior design, seen in "real world" with a person walking around it, does not look as bad as it does on photos:
https://www.youtube.com/watch?v=ULWZpTJWKfk
and post a picture of what seems as more base model on production line: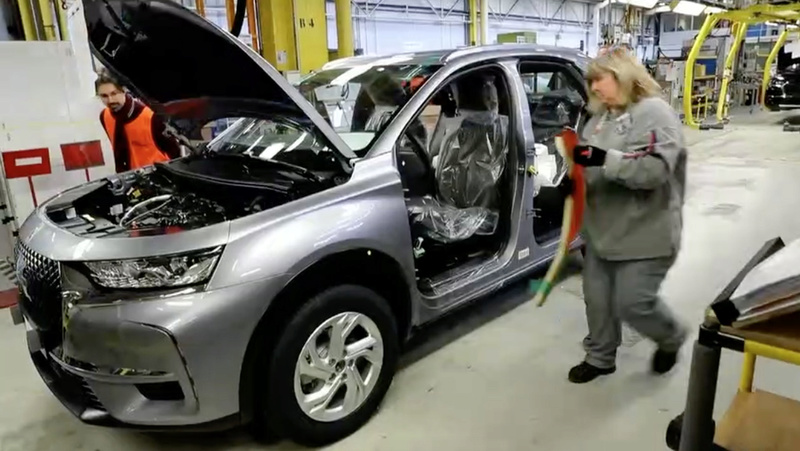 which makes me wonder.... since French blogs are full of pictures from Mulhouse production lines, where you can see a line of vehicles in production... why are they going to sell it as late as in the beginning of next year or (in the best case) by the very end of this year?